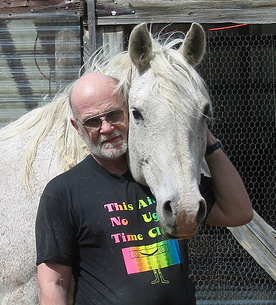 Who am I? Owner/Janitor/Addicted Reader: Jim Handcock
I have been hooked on books since early grade school, a habit I got from my Mother, who loved reading above all other pleasures.
I started wheeling and dealing and trading books when I was in high school, and that activity finally led me into this business. A friend, Jerry Knutson, started this as a part-time business back in 1977, and in 1979 we became partners. He went on to other things in 1983, but the store has kept on growing and is now more than a full time job. It is both my vocation and my avocation.
I am addicted to reading. I remember being stuck in a Forest Service cabin for several days, and being so desperate for a fix that I was reading the labels on the canned goods and the cereal boxes and even an old chain saw operator's manual. I am the weirdo that loses track of the plot in the movie because I am too busy trying to read the titles of the books on the shelves in the background.
The most-frequently-asked-question I hear is "What do you like to read?" I enjoy reading a little of everything. I like a mix of fiction & non-fiction, and usually am working on several books at a time (one or two by the bed, one or two in the truck, one or two in my office, one in the bathroom ... you get the idea). I like mystery/suspense books, some westerns, a lot of science fiction or fantasy, non-fiction books on travel and exploration in Asia and Africa, first-person military accounts, and technical books of many categories.
Here is a link to a story about the store that the Daily Interlake ran. It is a downloadable PDF file. The Flathead Beacon did a slideshow of the store last year too, and an article on independant bookstores of the Flathead.
My photos:
Click on the picture to stop the slide-show.

I like hunting, biking, fishing, boating, horses, collecting various things, listening to my computer-controlled Shortwave radio, general puttering & tinkering, playing on my Honda 90, writing (here is the article in pdf) and 4x4ing.
I don't live up to any of my friends - but this one is a true hero.
I have been tinkering with computers for over 15 years and like to build or upgrade my own.


Just some FYI links: